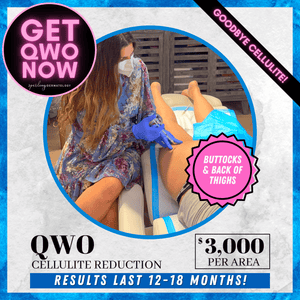 🥳  QWO is the first and only FDA-approved injectable treatment used to treat moderate to severe cellulite in the buttocks of adult women. 🎉
🙋🏼‍♀️ What do I get? You'll receive three QWO injections to eliminate cellulite dimples in your buttocks. QWO treatments are spaced 21 days apart, and results begin after your third and final treatment. Results last for 12-18 months!! 
FAQ's 🤔
Is QWO available everywhere? 
No! Currently QWO is only available to select providers nationwide, and Sperling Dermatology is proud to be among the first providers in all of NJ to offer this revolutionary treatment. In fact, Dr. Shari Sperling is one of less than 20 Key Opinion Leaders ("KOLs") selected by QWO in the entire country!
How often do I need the QWO treatment to get optimal effects?
In clinical studies, women received 3 treatments of QWO, 21 days apart.
How long does each treatment take?
Each QWO treatment often takes less than 10 minutes.
Which Sperling Dermatology locations offer the QWO treatment?
We are proud to offer QWO in all 3 of our NJ locations as well as on board the Sperling Sprinter, NJ's First Mobile Spa.
How is QWO given? Is it an injectable treatment just like Botox or Filler but for Cellulite?
Yes! QWO is administered via an injectable treatment by a certified Dermatologist or Physician's Assistant directly into targeted dimples in the buttocks region using a small needle, just like ones used for Botox or Filler treatments.
Will I bruise after my QWO treatment?
Some patients will experience injection site bruising, areas of hardness, itching, redness, swelling and warmth in the treated areas. Most bruising related to the treatment should subside within a short period of time. In clinical trials, women did not require any post-treatment downtime, and most bruising lessened after each subsequent treatment and became fully resolved in less than 21 days.
Does QWO work?
Yes! QWO has been studied in more patients than any other FDA-approved injectable cellulite treatment with over 1,800 women participating in the most recent clinical study. 
Is QWO Safe?
Absolutely - it wouldn't be FDA-approved if it wasn't!
What are the top misconceptions about cellulite and why do so many women (9 out of 10) suffer from it?
The top 3 misconceptions about cellulite are that:
1) Cellulite is fat - it's not!
2) Cellulite is caused by what or how much you eat - it's not!
3) Cellulite occurs when you aren't exercising enough - it doesn't!
So then, what does contribute to cellulite?
There are 3 things that, together, combine to cause the appearance of cellulite in adult women:
Over time, and as you age, your skin thins out

The fat cells beneath your skin enlarge and start to push against the skin (which is now thin)

The fibrous bands under that thin skin now thicken and cause tension which creates the effects of dimpling on your buttocks known as Cellulite
QWO sounds amazing, how much does it cost?
QWO is amazing! In general the cost of QWO will vary based on the severity of cellulite it is treating. Most patients will pay between $2,000-$3,000 for their entire 3 treatment protocol.
How long will results with QWO last?
Results with QWO are clinically proven to last between 12-18 months. We recommend coming in for additional treatments annually after your first 3-treatment protocol.

Is my purchase transferable and is it refundable?
We love this question and are happy to report that your purchase is 100% transferable meaning you are welcome to buy for your friends, family, and anyone else you want. As long as they are a treatment candidate, we are happy to treat them!
In terms of our refund policy, any unused purchases are completely refundable for up to 90 days!