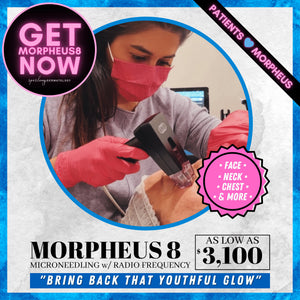 MORPHEUS8

Morpheus8 is a treatment that combines radio frequency and microneedling. It delivers exceptional skin, tissue and collagen remodeling to improve skin appearance and reduce irregularities such as uneven texture, acne scars, fine lines and wrinkles and loose sagging skin. With various configurations, morpheus has the ability to deliver fractional treatments throughout the body, including the face, chest, and neck.
What does one experience during a MorpheusTreatment?
The skin is first pre-treated with a strong numbing cream to help ease discomfort prior to the treatment. The treatment itself then takes around a half hour to forty minutes to perform. A device similar to the microneedling device that is used for a vampire facial is used with the addition of feeding radio frequency through the needles that can feel like a hot sensation.  The Device is programmed to deliver the energy through the needles at different depths and varying energy levels to achieve best results.  
After the Morpheus treatment is complete!
The patient is massaged with their own PRP or an HA serum provided by the office to help aid the skin in healing and hydration.  Redness, swelling and bruising may be present for typically 24-48 hours.   
Over the next several months, the results of your Morpheus8 treatment will become evident. New elastin, collagen, and blood vessels will be forming in the skin and increasing its health and creating a more remodeled appearance..
The results of the Morpheus8 treatment last for about one year on average, and in some patients, they can last for up to two years. After this point, patients may be able to get follow-up maintenance treatments in order to preserve their results.
Is my purchase transferable and is it refundable?
We love this question and are happy to report that your purchase is 100% transferable meaning you are welcome to buy for your friends, family, and anyone else you want. As long as they are a treatment candidate, we are happy to treat them!
In terms of our refund policy, any unused purchases are completely refundable for up to 90 days!