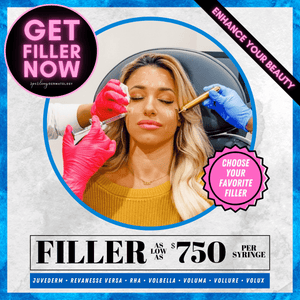 UNDERSTANDING FILLERS 
1. Juvederm Ultra – A great product for giving the lips a noticeably fuller appearance. If you're tired of your thin lips and want plump and unforgettable lips, Juvederm Ultra is for you. It's also great for addressing the nasolabial folds, which stretch from the corners of the mouth to the corners of the nose.
· Typically lasts 12 months. Cost: $750/syringe
2. Juvederm Ultra Plus – Similar to Juvederm Ultra, the formula of Juvederm Ultra Plus has a larger particle size that makes it last longer than Juvederm Ultra. Juvederm Ultra Plus typically provides results that last for nine to twelve months.
· Typically lasts 12 months. Cost: $750/syringe
3. Revanesse Versa - Revanesse can help improve fullness in your lips.
· Typically lasts 12 months. Cost: $750/syringe
4. Revance RHA — the RHA collection can help with your cheeks, nasolabial folds, and lips.
· Typically lasts 12 months. Cost: $750/syringe
5. Volbella – Volbella is used to smooth out the fine lines around the lips" and also for a "subtle lip enhancement". 
· Typically lasts 12 months. Cost: $750/syringe
6. Vollure – Designed to tackle aesthetic issues like lines and wrinkles around the mouth and nose. Vollure reduces the appearance of these common aesthetic issues by filling them in, which gives the surface of the skin a smoother and more youthful appearance.
· Typically lasts 18 months. Cost: $750/syringe

7. Voluma – The ideal product for treating hollowness in the cheeks. Voluma helps restore lost facial volume underneath the surface of the skin, lifting the cheeks. This creates comprehensive rejuvenation in the mid-face. 
· Typically lasts 24 months. Cost: $1000/syringe
8. Volux – The ideal product for treating the jawline. Volux is the first hyaluronic acid-based injectable filler approved by the FDA to specifically target the jawline. Volux defines the jawlines with more structure and lift capacity than any other filler. 
· Typically lasts 18 months. Cost: $1200/syringe
Is my purchase transferable and is it refundable?
We love this question and are happy to report that your purchase is 100% transferable meaning you are welcome to buy for your friends, family, and anyone else you want. As long as they are a treatment candidate, we are happy to treat them!
In terms of our refund policy, any unused purchases are completely refundable for up to 90 days!