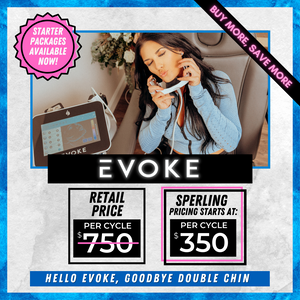 👇🏼  SEE BELOW FOR PRODUCT DETAILS 👇🏼
⏳ For a limited time, get EVOKE cycles at our lowest price EVER, just $350/cycle! ⏳
🎉 More information + before and afters below! 📸
👉🏼👉🏼 For optimal results we recommend a minimum of 6 Evoke cycles per treatment. 👈🏼👈🏼
✅ Select the number of EVOKE cycles you'd like to purchase from the quantity selector above—we recommend a minimum of 4️⃣ cycles per treatment! 

💰 If you have a PROMO CODE, you can apply it during checkout! 💸 
What is EVOKE? 💆🏼‍♀️
EVOKE™ is the newest skin-tightening treatment available from Sperling Dermatology and is the best non-invasive solution to tighten the skin on your jawline, neck, and chin! It 
uses Radio Frequency (RF) technology to tighten your double chin or your jawline (or both!) with a consistent temperature delivered to the treatment area. Our patients LOVE EVOKE™ because they see noticeable results after just one session!! 🤯
We recommend following the 4-cycle starter protocol for each area you want to treat. Select "4" in the quantity selector above for one area (double chin or jawline), and "8" if you'd like to treat both areas. For increased results, we recommend buying 6 cycles per area. 
Once I purchase my cycles, what do I do next?

☎️ Give us a call (973-800-1948, ext. 1) to schedule your treatment, or we'll call you - it's that simple. 👏🏻 
Is my purchase transferable and is it refundable?
🤍 We love this question and are happy to report that your purchase is 100% transferable! This means you are welcome to buy cycles for your friends, family, and anyone else you want. As long as they are a treatment candidate, we are happy to treat them! 👍🏼
In terms of our refund policy, any unused EVOKE cycles are completely refundable 
until 12/31/2023.
How long do I have to schedule my treatment?
⏳ These treatments expire two years from the date of purchase, so we do recommend you schedule it as soon as possible so that you can see your body transformation results sooner rather than later! 🏋️‍♀️
What kind of financing options do you offer?
💰 You can select the option to use Klarna financing above, and follow the prompts to understand the financing details based on your credit score! Patients love Klarna as it gives them an instant credit check/approval and allows them to pay in installments over time. If you'd rather use CareCredit or ALPHEON financing, just give us a call and we'll do our best to accommodate you! 💸