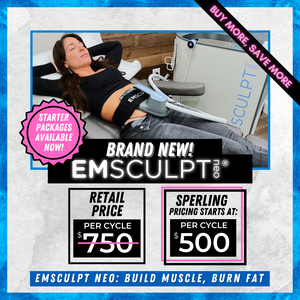 👇🏼  SEE BELOW FOR PRODUCT DETAILS 👇🏼

💪🏼 EMSCULPT NEO HAS ARRIVED!!! 💪🏼
EMSCULPT NEO is the newest muscle-toning treatment from BTL Aesthetics. One treatment is the equivalent to 20,000 crunches or squats!
Get EMSCULPT NEO for your abs, booty, arms, and calves!
🤔 Not sure how many cycles to buy? 👇🏻
EMSCULPT NEO starter protocol: each area is treated a minimum of six times, once per week over six weeks, 30 minutes per session. For more definition, we recommend as many as 16 cycles per area (depending on your body and goals).
Maintenance protocol: we recommend one maintenance cycle every 4-6 weeks after your starter protocol.
EMSCULPT NEO IS CURRENTLY AVAILABLE IN OUR MONTCLAIR, FLORHAM PARK, RED BANK, AND NEW YORK LOCATIONS! 🥳
What is EMSCULPT NEO? 💪🏼



BUILD MUSCLE. BURN FAT. 
NO SURGERY. NO DOWNTIME.
EMSCULPT NEO builds off the legacy of its predecessor, EMSCULPT, by simultaneously emitting both radio frequency and high intensity electromagnetic energies.
The end result is more fat reduction and muscle growth, than any single gold standard product, in less time.
Best of all, EMSCULPT NEO has broad appeal as it can treat patients up to BMI 35!
Get EMSCULPT NEO for your
 

abs, booty,

 

arms, and calves!
Imagine the results you'd experience by doing 20,000 CRUNCHES or SQUATS in 30 minutes—that's what EMSCULPT NEO® can do for you in just 1 treatment!

Once I purchase my cycles, what do I do next?


☎️ Give us a call (973-800-1948, ext. 1) to schedule your treatment, or we'll call you - it's that simple. 👏🏻 

Is my purchase transferable and is it refundable?

🤍 We love this question and are happy to report that your purchase is 100% transferable! This means you are welcome to buy cycles for your friends, family, and anyone else you want. As long as they are a treatment candidate, we are happy to treat them! 👍🏼




In terms of our refund policy, any unused EMSCULPT cycles are completely refundable 

until 12/31/2023.




How long do I have to schedule my treatment?

⏳ These treatments expire two years from the date of purchase, so we do recommend you schedule it as soon as possible so that you can see your body transformation results sooner rather than later! 🏋️‍♀️

What kind of financing options do you offer?

💰 You can select the option to use Klarna financing above, and follow the prompts to understand the financing details based on your credit score! Patients love Klarna as it gives them an instant credit check/approval and allows them to pay in installments over time. If you'd rather use CareCredit or ALPHEON financing, just give us a call and we'll do our best to accommodate you! 💸