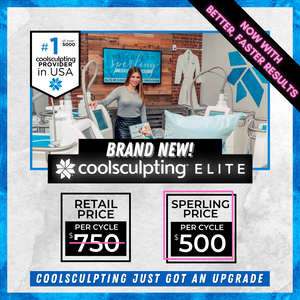 👇🏼  SEE BELOW FOR PRODUCT DETAILS 👇🏼
🥶 CoolSculpting® ELITE: Get Better and Faster Results! 🥶
🥳 Select the number of CoolSculpting® ELITE cycles you'd like to purchase from the quantity selector above! 👆🏼

If you have a PROMO CODE, you can apply it during checkout! ✅
Not sure how many cycles to buy? 👇🏻
In general, different areas of the body are best suited with the following cycle counts:
Abdomen: 6-12 cycles

Flanks / Love Handles: 4-8 cycles

Inner Thighs: 4 cycles

Outer Thighs: 4 cycles

Arms: 4-6 cycles

Chin: 2 cycles
What makes CoolSculpting® ELITE so effective? 🧐
🎉 CoolSculpting ELITE delivers better results, faster. 🏆
Results can be seen as early as 4 weeks after treatment 📈
New applicators cover 18% more surface area for a more noticeable result 👊🏼
New machines allow you to treat two areas at once, meaning you can complete your treatment in half the time ⏰ 
🔥 TELL ME MORE 🔥
Remind me again, what is CoolSculpting®?
We're glad you asked! CoolSculpting® is the world's #1 non-invasive fat reduction treatment. It's been performed over 7 million times and is completely safe and effective. The treatment requires zero needles, surgery, or downtime, and can take as little as just 35-minutes per area. BYE BYE Fat! 👋🏻
How many treatments will I need? 👩🏻‍⚕️

This also depends on many factors, but we can tell you that about half of our  CoolSculpting® patients choose to get a second treatment, and this is also something we often recommend to see the best results. 😎
How does it work with the larger applicators, will I be charged for 2 cycles? 💭
Yes. If we need to use the plus applicator, that will require 2 cycles per use as it is essentially double the area of a standard applicator. 🤷🏻‍♂️
Why should I choose Sperling Dermatology for my CoolSculpting needs? 🤔
This one's easy - Sperling Dermatology is the #1 CoolSculpting® provider in the USA 🇺🇸 out of more than 5,000 providers. You could say CoolSculpting® is our specialty, and our spectacular results speak for themselves- we have OVER 1,000 FIVE STAR 🤩 reviews across Google and HealthGrades from our happy and satisfied patients! We have 9 CoolSculpting® ELITE machines, 4 locations, and every applicator on the market. There is no better place in the entire state of NJ to get your CoolSculpting® treatment done! 🎉 
Once I purchase my cycles, what do I do next? 🗒
Give us a call (973-800-1948, ext. 1) to schedule your treatment, or we'll call you - it's that simple. 👏🏻 
Is my purchase transferable and is it refundable? 🔁
We love this question and are happy to report that your purchase is 100% transferable meaning you are welcome to buy cycles for your friends, family, and anyone else you want. As long as they are a treatment candidate, we are happy to treat them!
In terms of our refund policy, any unused CoolSculpting cycles are completely refundable until 12/31/2023.
How long do I have to schedule my treatment? ⏱
These treatments expire two years from the date of purchase, so we do recommend you schedule it as soon as possible so that you can see your body transformation results sooner rather than later! 🏋️‍♀️
What kind of financing options do you offer? 💰
You can select the option to use

 
Klarna financing
 

above, and follow the prompts to understand the financing details based on your credit score! Patients love Klarna as it gives them an instant credit check/approval and allows them to pay in installments over time. If you'd rather use CareCredit or ALPHEON financing, just give us a call and we'll do our best to accommodate you! 💸