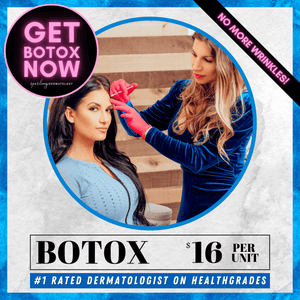 HOW IT WORKS
Select your Botox™ quantity in the "Use The Dropdown To Buy In Bulk" selector above! 💉
We have our most common bulk quantities within the dropdown selector! If you prefer to purchase by the specific unit, just select: "1 Botox™ Unit ($16 per unit)" and change the quantity to the number of units you would like.
If you have a promo code, you can apply it during the final step of checkout in they payment section. 💸
Redeem your Botox purchase at any Sperling Dermatology location for up to TWO YEARS from the purchase date. Refundable if unused for 60 days from purchase.

UNDERSTANDING BOTOX™
Botox is incredibly safe to use around some of the most sensitive areas of the face. You can use Botox to address wrinkles and lines in a number of areas, including:
· Corners of the eyes
· Forehead
· Between the brows
· Chin
· Edges of the lips
· Neck
*Any Botox units purchased can also be redeemed for Dysport.*
If you have any questions please feel free to contact our office at any time (973)800-1948.
Is my purchase transferable and is it refundable?
We love this question and are happy to report that your purchase is 100% transferable meaning you are welcome to buy for your friends, family, and anyone else you want. As long as they are a treatment candidate, we are happy to treat them!
In terms of our refund policy, any unused purchases are completely refundable for up to 90 days!