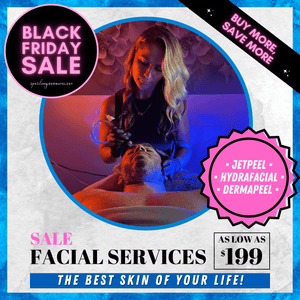 💆🏽‍♀️ Get the best skin of your life. 💆🏽‍♀️
Revitalize your skin and experience the ultimate self-care this Black Friday with our incredible discounts on three extraordinary facial treatments: the Deluxe HydraFacial, JetPeel Infusion Facial, and The Perfect DermaPeel. Don't miss this limited-time deal to pamper yourself and achieve a refreshed, youthful glow!
Deluxe HydraFacial:
The Deluxe HydraFacial is a revolutionary treatment that combines the power of hydration, exfoliation, and extraction to leave your skin looking and feeling its best. This non-invasive facial is perfect for all skin types and addresses a wide range of concerns, from fine lines and wrinkles to clogged pores and hyperpigmentation. 
JetPeel Infusion Facial:
JetPeel Facial is a cutting-edge and non-invasive treatment that uses the power of jet stream technology to exfoliate, hydrate, and revitalize your skin. This innovative facial treatment promotes collagen production, reduces fine lines, and leaves you with a fresh, youthful complexion. 
The Perfect DermaPeel:
The Perfect DermaPeel is a medium-depth, medical grade peel that transforms your skin. This powerful treatment helps with concerns such as anti-aging, the appearance of acne scars, fine lines, sun damage, and hyperpigmentation, leaving your skin smoother, firmer, and more radiant. It works for all skin types, and all skin concerns. It's the perfect choice for those seeking lasting, dramatic results. Consultations are recommended prior to treatment.
- All purchases must be redeemed within 90 days of purchase.
- All purchases are 100% refundable (if unused) within 90 days of purchase.