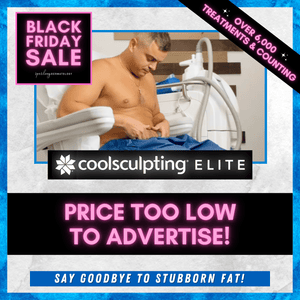 Get Rid of Stubborn Fat Anywhere!
🎉 Unlock Black Friday Sale pricing by checking out with a FREE ($0) CoolSculpting Black Friday consultation. 🎉

✨ We will call or text you after checkout! ✨
*All purchases of CoolSculpting come with a BONUS discount if combined with a package of Morpheus8.
What makes CoolSculpting® ELITE so effective? 🧐
🎉 CoolSculpting ELITE delivers better results, faster. 🏆
Results can be seen as early as 4 weeks after treatment 📈
New applicators cover 18% more surface area for a more noticeable result 👊🏼
New machines allow you to treat two areas at once, meaning you can complete your treatment in half the time ⏰ 
🔥 TELL ME MORE 🔥
Remind me again, what is CoolSculpting®?
We're glad you asked! CoolSculpting® is the world's #1 non-invasive fat reduction treatment. It's been performed over 7 million times and is safe and effective. The treatment requires zero needles, surgery, or downtime, and can take as little as just 35-minutes per area. BYE BYE Fat! 👋🏻
How many treatments will I need? 👩🏻‍⚕️
We highly recommend treating all areas twice as that generates better results and higher satisfaction for our patients (you!). 😎
Why should I choose Sperling Dermatology for my CoolSculpting needs? 🤔
This one's easy - Sperling Dermatology is the #1 CoolSculpting® provider in the USA 🇺🇸 out of more than 5,000 providers. You could say CoolSculpting® is our specialty, and our spectacular results speak for themselves- we have OVER 1,000 FIVE STAR 🤩 reviews across Google and HealthGrades from our happy and satisfied patients! We have 9 CoolSculpting® ELITE machines, 4 locations, and every applicator on the market. There is no better place in the entire state of NJ to get your CoolSculpting® treatment done! 🎉 
Once I unlock Black Friday
 

Sale pricing, what do I do next? 🗒




Give us a call (973-800-1948, ext. 1) to schedule your treatment, or we'll call you - it's that simple. 👏🏻 



Is my purchase transferable and is it refundable? 🔁
We love this question and are happy to report that your purchase is 100% transferable meaning you are welcome to buy cycles for your friends, family, and anyone else you want. As long as they are a treatment candidate, we are happy to treat them!
All purchases must be redeemed within 90 days of purchase.
All purchases are 100% refundable (if unused) within 90 days of purchase.
How long do I have to schedule my treatment? ⏱
These treatments expire 90 days from the date of purchase, so we do recommend you schedule it as soon as possible so that you can see your body transformation results sooner rather than later! 🏋️‍♀️
What kind of financing options do you offer? 💰
You can select the option to use

 
Klarna financing
 

above, and follow the prompts to understand the financing details based on your credit score! Patients love Klarna as it gives them an instant credit check/approval and allows them to pay in installments over time. If you'd rather use CareCredit or ALPHEON financing, just give us a call and we'll do our best to accommodate you! 💸